For the first time in history, the iGEM TU Eindhoven student team has won the iGEM Grand Jumboree in the Undergrad category beating over 180 teams. The students designed !MPACT – a Modular & Personalized Autoimmune Cell Therapy to treat ANCA-associated vasculitis, a chronic inflammation of the blood vessels. CLT is extremely proud to be part of this amazing journey.
iGEM (International Genetically Engineered Machine) is an annual world-wide student competition where the participants address unique challenges using synthetic biology approaches. The iGEM 2022 Grand Jamboree took place from October 26 – 28, 2022 in Paris, with 7000 participants including students, academics, investors, and industry representatives. More than 350 iGEM teams presented their projects divided into three categories: high school, undergrad, and overgrad.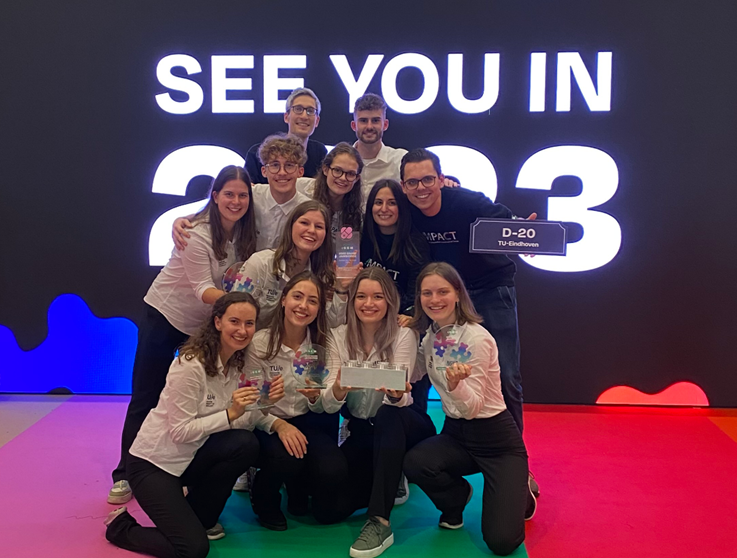 Project !MPACT
Among 400 million people worldwide suffering from autoimmune diseases, nearly 1 million suffer from the life-threatening antineutrophil cytoplasmic antibody (ANCA)-associated vasculitis. This is characterized by chronic inflammation of the small blood vessels leading to deprived oxygen supply and resulting in loss of tissue functions or even tissue death. The current treatments for autoimmune diseases are based on suppressing the immune system that are unspecific, cause severe side effects for patients and result in high workloads for hospitals.
In !MPACT, the patient's own immune cells will be manipulated to detect and bind specific autoantibodies. As a consequence, an immunosuppressing protein will be released by the cells at the specific inflamed sites. Ideally, only one injection of these engineered cells is able to treat the disease activity as well as prevent further relapses. This way, the therapy is preventive, reduces side effects, and halves the workload of hospitals. Besides, small alterations of the design make !MPACT also suitable for patients that suffer from other autoimmune diseases.
Team
The team consisted of nine motivated TU/e students with a background in Biomedical Engineering and Industrial Design. The team was mentored by three professors Luc Brunsvld, Maarten Merkx, and Tom de Greef.
Awards
Besides winning the grand prize, the team also won the best project award in the track Therapeutics and 4 special prizes:
Best Integrated Human Practices
Best Supporting Entrepreneurship